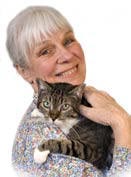 Last year, over ten-thousand claims were filed against pet food companies after it was revealed that food containing Chinese-made wheat gluten laced with melamine, an industrial chemical, had lead to the sickening and death of thousands of pets. This negligence on the part of pet food companies and the United States Food and Drug Administration has since raised awareness about the questionable ingredients which makes its way into pet food, encouraging some owners to turn to organic foods, or even prepare their own. Originally published in 1981, Anitra Frazier's now-classic handbook THE NATURAL CAT was one of the first books to advocate this type of natural health care for animals. Now in available in paperback from Plume Books, and with illustrations, THE NATURAL CAT: The Comprehensive Guide To Optimum Care (Plume/$20.00/December 2008) has been updated and expanded to offer practical holistic cat care advice to a whole new generation of owners.
With an increasing number of pet care options available, it's often confusing for an owner to decide the healthiest course. This new edition of THE NATURAL CAT combines classic and reliable advice on grooming, neutering and spaying, common feline health problems, elder cat care, behavioral problems, and emotional bonding, with the latest information available. Included is essential information on:
THE NATURAL CAT addresses all the many new discoveries in holistic cat care, and is the only handbook owners need to naturally nurture a happy, healthy cat.
Contact: Penguin USA
Mary Pomponio, Senior Publicist
212-366-2218
Mary.Pomponio@US.PenguinGroup.com